Mare Nostrum: Deep Listening Under the Full Moon
12 Novembre, 2019 @ 18:00

-

23:59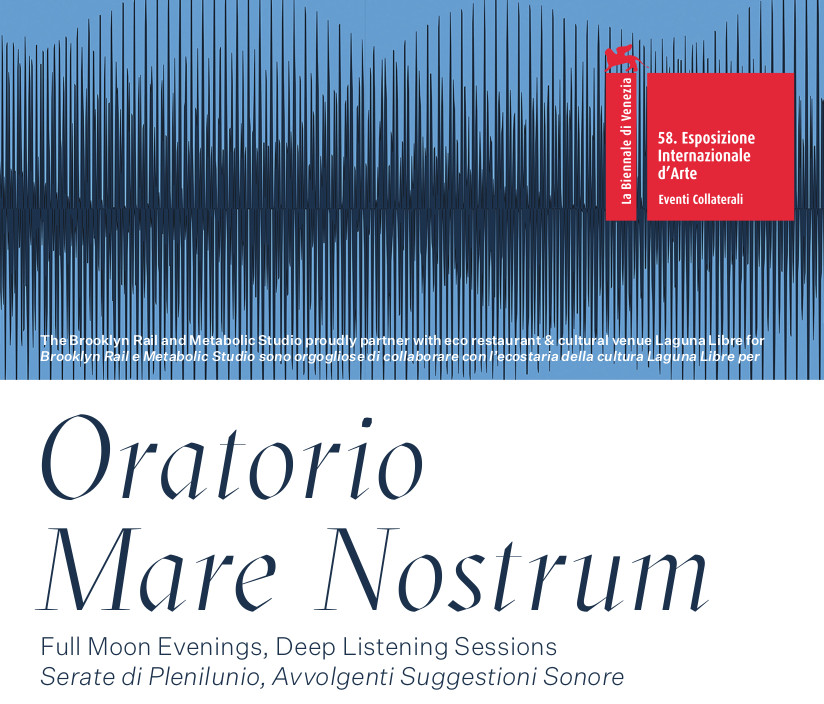 Ogni mese durante la luna piena la nostra mostra nella Chiesa di Santa Maria delle Penitenti rimarrà aperta fino a tardi per invitare il pubblico ad una più profonda meditazione sul rapporto tra le opere d'arte, lo spazio della Chiesa e il Mediterraneo. L'ecostaria della cultura Laguna Libre, offrirà una bevanda in omaggio a coloro che parteciperanno all'evento.
Se sei interessato a partecipare all'installazione con una esibizione dal vivo sei pregato di contattare il +39 3285906728.
Unisciti a noi nella penombra e ascolta il crescendo sonoro dell'installazione di Lauren Bon al culmine del ciclo lunare, senti la marea spingere contro le fondamenta della chiesa, scorgi la luce lunare filtrare attraverso la finestra e chiediti: quanto è grande "qui"?
La mostra, Artists Need to Create on the Same Scale that Society Has the Capacity to Destroy: Mare Nostrum (È necessario che gli artisti creino con la stessa intensità con cui la società ha la capacità di distruggere: Mare Nostrum), è una riflessione sul Mar Mediterraneo, su come esso mette in contatto Venezia con tre continenti ed una panoplia di culture, e su come le ripercussioni del cambiamento climatico lo attraverseranno.
_________________________________________________________________________________-
Each month on the full moon we're keeping our exhibition at Chiesa di Santa Maria delle Penitenti open late, inviting the public in for deeper meditation on the relationships between the artworks, the church building, and the Mediterranean. Our local partner, eco restaurant and cultural venue Laguna Libre, will offer a complimentary beverage to those attending the event.
If you would like to participate in the live singing part of the installation this Saturday September 14 please contact: +39 3285906728
The show, Artists Need to Create on the Same Scale that Society Has the Capacity to Destroy: Mare Nostrum, is a rumination on the Mediterranean Sea, how it connects Venice with three continents and a panoply of cultures, and how the ripples of climate change will travel through it.
Come hang out in the dark and listen to Lauren Bon's sound installation crescendo with the lunar cycle, hear the tides push against the church foundation, see some moonbeams through the window, and consider: how big is "here"?